This week I'll be looking to make the world a better place one gift (made from recycled materials) at a time…
Friday: I've just had my first visit to the Biome Eco Store and found some beautiful pieces made by Kylie Gartside. Her Little Piece range is made from 100% recycled sterling silver, sourced from photographic and industrial applications. Recovered, refined and processed in Australia without mining or international transportation and handmade in Brisbane.






Thursday: These very cute animal sculptures are made from recycled thongs (flip-flops for non Australians). Thongs litter the East African coastline causing enormous damage to the marine environment. A Kenyan orgnisation collects, recycles and transforms them into these beautiful, colourful ecofriendly products. You can buy them from Ethical Gifts.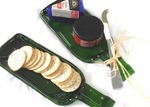 Wednesday: Check out these funky flat cheese platers made from recycled wine bottles by VA Glass Gallery. You can even customise them with washable paint or embossed initials if you would like.
Tuesday:Oxfam has a range of products which are made from recycled materials and in fact these were the most popular fair trade gifts for Christmas 2010. These are a couple of my favourites:

The recycled tyre tube 'Postman Satchel' is designed and made by an El Salvadorian group that is providing employment for their community, fair living wages, training and job security. They collect inner-tubes that would otherwise be stockpiling to be thrown into landfills that pollute the Earth, and fashion them into fabulous tactile accessories.

The 'Vespa' recycled bike is made from recycled aluminium cans by women of Madagascar. I know my mum would love these!

Monday: I'm loving these Hobnob Pop-up Party Bins, which are made from recycled content and are 100% recyclable. I would be more than happy for someone to give these to me next time I'm having a party!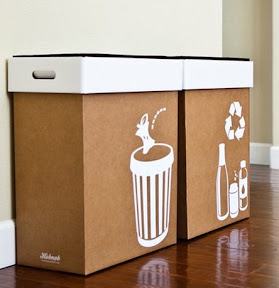 This week – just a few cool things I have found recently…
Weekend: The iRentrofone tagline is -'The only thing better than looking cool is feeling cool!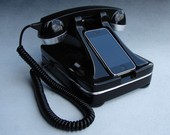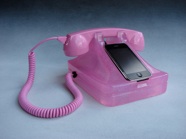 The iRetrofone Base is a fully-functional, stationary iPhone dock with working handset and complete compatibility with USB cable. Each individual iRetrofone is hand-sculpted and handcast in urethane resin by Scott Freeland at Freeland Studios, Inc.


Friday:I love this vase – a little bit different and very cool. The handmade grass vase enhances nature indoors.
Thursday: I'm sure I have mentioned previously that I love maps and I think these world map stickers would look very cool on my wall.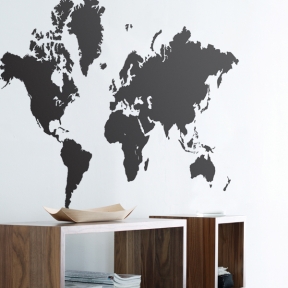 Wednesday: one of the fabulously cool sites I have discovered via Twitter is Brain Pickings (if you haven't checked it out before you totally should!) The other day I was having a bit of a read and this advert caught my eye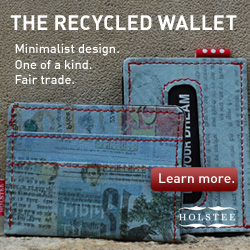 Besides being pretty cool, why does the recycled wallet make a perfect gift??
It is made from upcycled plastic bags and newspapers collected from the streets of Delhi.
Its' production supports the impoverished. Holstee has partnered with a non-profit in India determined to help those often referred to as 'rag pickers' by providing fair wage employment, education and healthcare for employees and their families.
Each is one-of-a-kind in its pattern and style. From colored ads, cartoons, headline news, and classifieds no two wallets are the same.
Tuesday: Today's 'cool' gift idea comes courtesy of @JessVanDen of Epheriell Designs fame. Jess tweeted this morning that she had just ordered a handmade kindle cover from Bobishi. I have just a boring black leather kindle cover and was intrigued as to what a handmade fabric version would look like.
Verdict: I want one! This is my favourite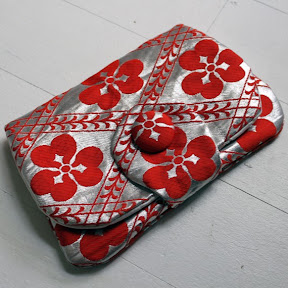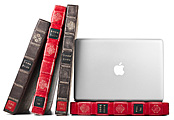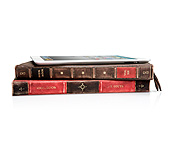 Monday:I just noticed a friend had one of these fabulous BookBook Cases (these pictures just don't do them justice!)
The BookBook Case is a handmade, hardback, vintage-look leather case that doubles as a fully adjustable stand. My friend's had her MacBook Air in it (picture on the left), but Twelve South also makes BookBook cases for the iPad (on the right).