This week – just a few cool things I have found recently…
Weekend: The iRentrofone tagline is -'The only thing better than looking cool is feeling cool!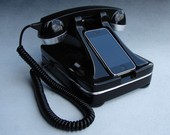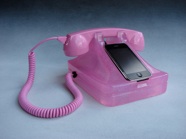 The iRetrofone Base is a fully-functional, stationary iPhone dock with working handset and complete compatibility with USB cable. Each individual iRetrofone is hand-sculpted and handcast in urethane resin by Scott Freeland at Freeland Studios, Inc.


Friday:I love this vase – a little bit different and very cool. The handmade grass vase enhances nature indoors.
Thursday: I'm sure I have mentioned previously that I love maps and I think these world map stickers would look very cool on my wall.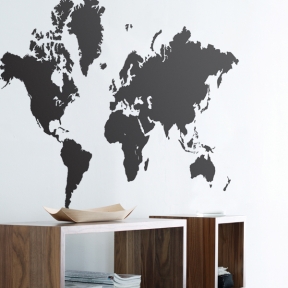 Wednesday: one of the fabulously cool sites I have discovered via Twitter is Brain Pickings (if you haven't checked it out before you totally should!) The other day I was having a bit of a read and this advert caught my eye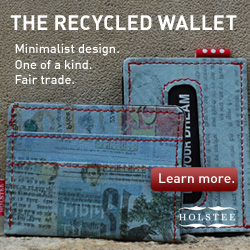 Besides being pretty cool, why does the recycled wallet make a perfect gift??
It is made from upcycled plastic bags and newspapers collected from the streets of Delhi.
Its' production supports the impoverished. Holstee has partnered with a non-profit in India determined to help those often referred to as 'rag pickers' by providing fair wage employment, education and healthcare for employees and their families.
Each is one-of-a-kind in its pattern and style. From colored ads, cartoons, headline news, and classifieds no two wallets are the same.
Tuesday: Today's 'cool' gift idea comes courtesy of @JessVanDen of Epheriell Designs fame. Jess tweeted this morning that she had just ordered a handmade kindle cover from Bobishi. I have just a boring black leather kindle cover and was intrigued as to what a handmade fabric version would look like.
Verdict: I want one! This is my favourite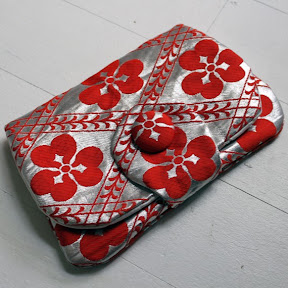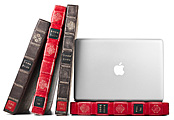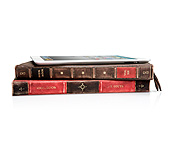 Monday:I just noticed a friend had one of these fabulous BookBook Cases (these pictures just don't do them justice!)
The BookBook Case is a handmade, hardback, vintage-look leather case that doubles as a fully adjustable stand. My friend's had her MacBook Air in it (picture on the left), but Twelve South also makes BookBook cases for the iPad (on the right).
With Australia Day mid week I thought it was appropriate for this week's gifts to be Australian related…
Saturday: The Beer Lovers Guide to Australia provides a snapshot of the Australian beer industry, breweries and bars. A range of well respected Australian writers and beer connoisuers guide you through the world of beer:
*Dr Peter Aldred – What is Beer?
*Andrew Perry – The History of Beer
*Matt Kirkegaard – The Australian Craft Beer Revolution
*Ian Watson – Tasting Beer
*Paul Mercurio – Beer & Food
*Laurie Strachan – A Menu of Beer Styles
P.S. There is even a Beer Lovers Guide iPhone app
Friday: Help save the northern hairy-nosed wombat, which is one of the world's most endangered species. At last count there were only 115 individuals living in a single isolated population in Western Queensland, Australia.
You can donate to the Wombat Foundation or buy these three fabulous children's book which follow the adventures of Willit the wombat.
Thursday: I've just recently discovered Bluecaravan, an ethical online design market based in Australia.
It's all about lovely, interesting and edgy products – beautifully finished, made with heart, and bought directly from the designer/maker.
Here are a few items from Aussie designers that caught my eye:
*Anything from The Dharma Door – I particularly like this Dragonfly and Butterfly Garland
*From Interro a very cool wallet made from new RED seatbelt webbing
*Gorgeous handmade toys from Flying Star Toys – this elephant is a favourite!
Wednesday: The Australian blogger community is rallying around one of its own. Lori is from the Random Ramblings of a Stay at Home Mum blog. Under tragic circumstances her husband passed away on January 10 this year. This has left Lori with no income. She has two small children (aged 3 years & 16 months).
A Facebook auction has been set up to raise money for Lori and her children. You will find plenty of fabulous gifts to bid on, including toys and weekends away.
Tuesday: know someone planning some Australian travel?? Why don't you buy them a Journey Jottings journal so they can summarise their trip and create a visual keepsake.
Monday: Make Me Iconic's goal is to bring icons of Sydney and Melbourne to life and into people's homes. Take your pick of cushions, artworks, mugs, tea towels and toys.
Make Me Iconic is all about giving talented, young designers a chance.