God couldn't be everywhere, so he created mothers ~ Jewish Proverb

Saturday: What mum doesn't like curling up and indulging in a fun read – Girl's Night In (the 10th Anniversary edition) is certainly this.
This edition brings together much-loved stories from the previous four books by some of the biggest names in women's fiction – Marian Keyes, Candace Bushnell, Cathy Kelly and Maggie Alderson.
By buying this book you'll also be helping kids caught up in the turmoil of war, with all royalties going to War Child, a charity that funds projects for children in areas of conflict.

Friday: Give mum this beautiful handbag sized Ideas Book. It contains interior design tips for all areas of the home from the kitchen and dining areas to bedrooms, bathrooms and lounge rooms.
Mum can also use the Ideas Book, as her go to note book, to keep details of her favourite restaurants, bloggers, shops that are great for gifts for friends etc etc.
Thursday: What mum wouldn't love this gorgeous personalised Mum's nest…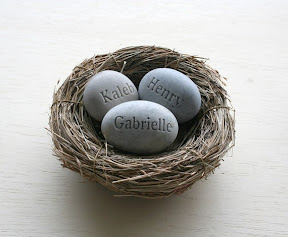 Wednesday: UNHCR is calling on all Australians to join together to create the biggest relief package the world has ever seen!
In celebration of Mother's Day you can add these gifts to the relief package:
$26 is enough to provide 10 life-saving Clean Delivery Kits. These kits contain an instruction sheet, cotton baby wrap, soap, plastic sheeting, a clean blade and string for the umbilical cord. These kits are proven to save the lives of women and girls during the onset of an emergency. This low cost intervention can reduce newborn deaths by up to 70% and more than double a mother's chance of survival.
$53 will cover a Midwife Delivery Kit, which includes drugs, sterile dressings and other renewables for midwives.
Tuesday: The TOM's Shoes' Mother's Day limited edition shoe has already sold out – note to self get in earlier next year!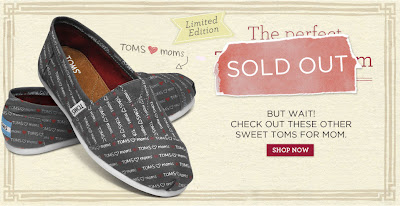 But there are still lots of other great options to chose from for mum. Remember with every pair you purchase, TOMS will give a pair of new shoes to a child in need.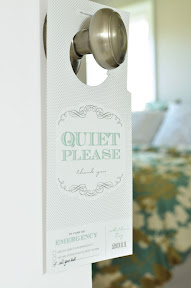 Monday: I love this DIY Mother's Day door hanger from Twig & Thistle. Give your mum the gift of a little down time this Sunday. All you need to do is download, print, cut and hang (and make her breakfast in bed)!